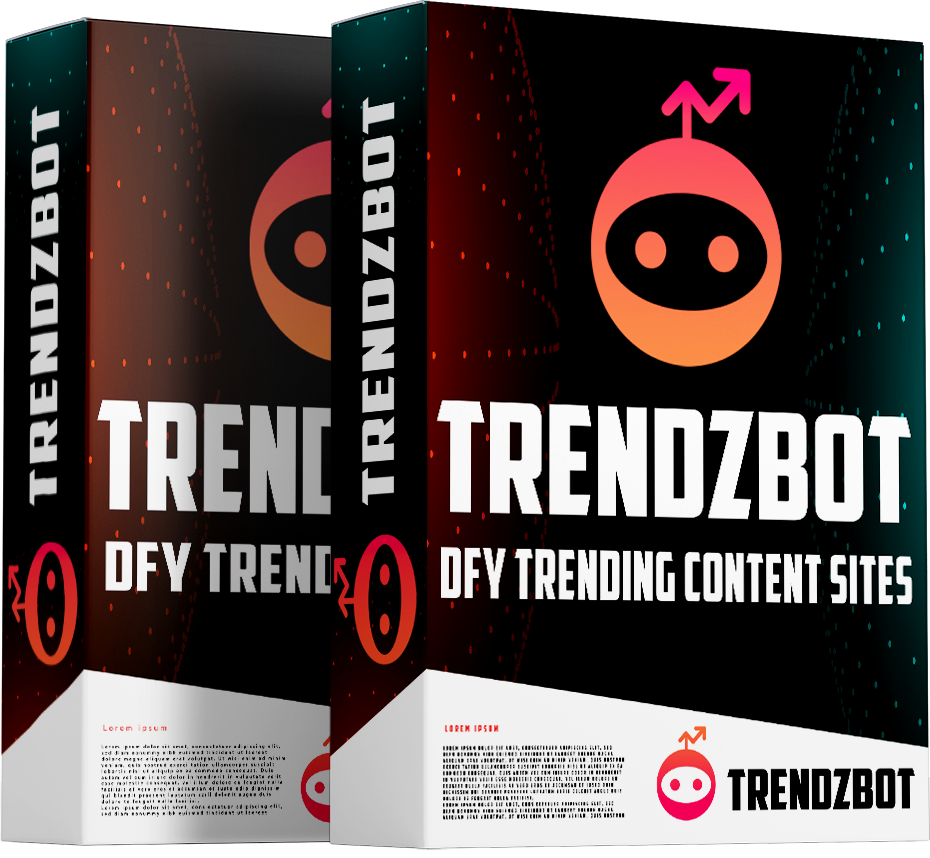 This is your opportunity to have your very own 100% DONE-FOR-YOU affiliate site pre-loaded with content on topics and hashtags that are trending RIGHT NOW!
The sites come with auto-generated articles based on currently trending hashtags and trending topics. New trends are discovered every day and they are used to create fresh content.
New posts are automatically shared on social media platforms and are used to provide a limitless supply of free traffic.
The "trending content" system is based off some of the most successful trend-watching sites. Their best practices are being "borrowed" and improved inside TrendzBot.
All sites come with free hosting, fresh content, unlimited traffic and all the necessary tools + training. Every buyer gets free subdomains included for FREE.
TrendzBot is 100% beginner friendly. Users simply need to login, pick a name for their site, pick a niche, enter their affiliate IDs and hit ONE SINGLE button.
And with the ability to use ANY affiliate programs, even a complete newbie can start earning commission right away.
TrendzBot is a...
... cloud-based ChatGPT-Powered Software that allows you to instantly build money-making Sites With Trending Content that get free traffic and generate affiliate commission.
Here's what's included in the main version:
COMPLETE Done-For-You Money-Making Affiliate Sites that automatically find trending topics on social media and auto-generate related trending content for these hot topics.
FREE Unlimited Traffic - get unlimited visitors from Google and other search engines + automatically post the newly generated content back to social media sites - Twitter, Tumblr, LinkedIn, Wordpress.com, Diigo, VK, Instapaper. Enjoy free viral traffic snowballing every day.
Powered by ChatGPT: have the world's most popular AI to write high-quality content that attracts free clicks 24/7.
100% Beginner Friendly - literally, pick a name for your site and have it built in seconds! No list, no paid traffic, no experience needed.
HUNDREDS Of Trending Topics - automatically updated and new ones are added EVERY HOUR!
Use ANY AFFILIATE PROGRAM monetize your sites with ANY affiliate program - just enter your affiliate link.
MONETIZE your auto-generated content by automatically replacing matching words with a link to any affiliate offer.
BANNER ADS with strategic placements on your site to bring the most clicks and referred affiliate sales.
Automated HASHTAG RESEARCH - let your competitors do the hard work. Then swoop in and swipe their winning tags.
Integrates with SIX social media platforms: Twitter, YouTube, Pinterest, Tumblr, Dailymotion and Instagram. Use the auto-posting feature to enjoy free never-ending traffic.
INCLUDED Free Premium Hosting - no domain needed, no monthly hosting fees, zero ongoing cost.
FREE Subdomain - Every buyer gets a SUBDOMAIN included for FREE.
Cloud-Based Software - nothing to install and no need to worry about updates. Access from ANYWHERE in the world from any device with a browser.
100% Customizable - add your branding, image, logo, change site colors and content. Select which niche to focus on. Make it UNIQUELY yours.